Office 365 is your complete office in the cloud
When we say "complete office", first of all, we mean the Office apps that you know and love – Word, PowerPoint, Excel, Outlook, etc. With Office 365, you get these same apps as you have always used them, as desktop apps. The difference is, you are now subscribing to Office. Which means, you will always get the latest version of these Office apps on your desktop, whether you are online or offline. In addition to desktop apps, you also get Office Mobile on your smart phones for viewing and editing on the go. As part of our continuous commitment in improving the services, Microsoft announced in June/July 2013 that they are now supporting Office Mobile for both iPhones and Android phones. For any other devices, or when you don't have your devices with you, you still have Office Online which allows you to open and edit documents and emails in any browser.
But that's not all, there's so much more you get with Office 365. You get Office, plus all these services and benefits. You get cloud-based productivity services hosted by Microsoft, including business-class email, file sharing, HD video conferencing, all working together and connected to Office so you have anywhere access to everything you need to run your business. And these are all enterprise-level services optimized for smaller businesses, so it's easy to set up and manage, with a financially-backed SLA and 24/7 technical phone support for critical issues.
Office 365 is your complete office in the cloud and the best way to acquire the new Office.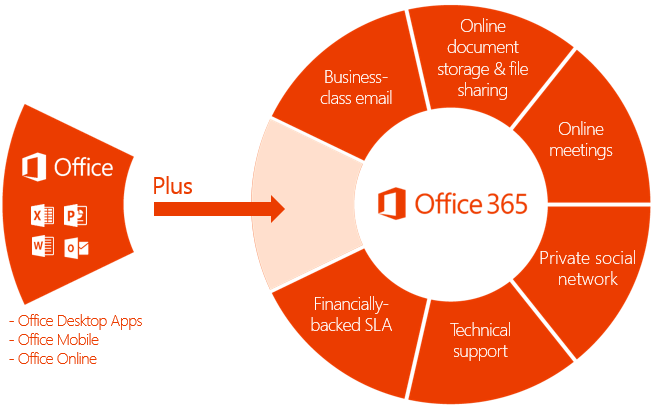 Next Steps...
Want to lean more or ready to move to Office 365? Call us now at 954-779-6510