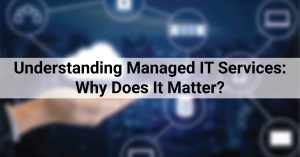 IT requirements evolve as technology undergoes rapid changes. With the advancement in technology, security and downtime threats have been increased day by day, and these threats can make businesses crawl down when needed. This problem can be resolved by partnering with the right managed IT service provider.
Before we dive deep, let's understand the basics of managed IT services.
What Do You Mean By Managed IT Services?
Managed IT Services is an IT solution outsourced to an external organization to enhance their IT infrastructure. The service provider takes complete responsibility for the daily functioning of your business equipment. So that your in-house IT team can focus more on core IT programs to enhance your business development.
Why Does Managed IT Services Matters A Lot In Business Growth
Traditionally the "break-fix" model was used for IT maintenance. Break-fix means the business would call an IT expert when IT-related issues occurred. Until these issues were resolved, the business processes remained at a halt, wasting time and money.
Thankfully, Managed IT services allow smooth functioning of a business without disrupting the flow of any operations. Your IT service provider will keep a continuous eye on your network and server to manage, monitor, and resolve problems related to your IT systems. This collaboration will help you to focus on your core business process without any IT issues. Are you in search of a managed IT service provider?
ZenTek Data Systems, a leading managed IT service company helps you enhance your IT infrastructure by continuously monitoring your system to identify and resolve risk before they enter into a huge loss.
Still in a dilemma whether to choose a managed IT service provider for your business or not. By having a glance at the advantages of outsourcing IT services, you will receive a better idea.
Perks Of Managed IT Services
1. Expert Assistance
New technology brings new problems, and your IT team might be unable to solve these issues. Fortunately, your managed service provider can resolve such problems as soon as they arise. A vital advantage of the managed service model is that it allows you to choose specialists depending on the demands of each project.
2. Cost-Effective
Managed IT services help in reducing labor costs. It also helps eliminate hiring and training cost of new IT staff, and the best part is that you don't have to worry about unexpected service costs. You can utilize your budget for other core functions of your business.
3. Strategic IT planning
If you require IT systems, your managed services provider helps you think ahead and imparts you with the correct advice. This means you have proactive IT support to ensure that your software and IT infrastructure are upgraded and updated to minimize downtime, viruses, or crashes.
4. Reduced Downtime
Your IT services provider impart you with data recovery and backup solutions to protect essential business information. In the event of a disaster, they can help in recovering data for service continuations. This can be a lifesaver for the smaller business.
Choose Wisely!!
When you collaborate with ZenTek Data Systems, your organization will receive a positive transition towards growth. With our expert managed IT services, you reap the benefits of improved productivity, increased efficiencies, and minimized downtime.
Tags: Managed IT Service Provider Miami, Managed IT Services, Managed IT Services Florida, Managed IT Services Fort Lauderdale, Managed IT Services Miami