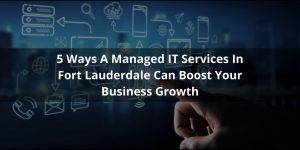 IT requirements are continuously evolving with technology undergoing rapid changes. Not to mention the data threat that has increased with the continuous evolution of technology. This is where managed IT service providers in Fort Lauderdale come into the picture. They don't help you smoothen out your processes. They also address cost and security challenges in an efficient manner.
If you are curious to know how managed IT Services in Fort Lauderdale Can Boost Your Business Growth, let's have a look.
1. Cost Saving
An in-house IT infrastructure and network can increase the cost overheads for small and medium-sized businesses. You are spending money purchasing and setting up equipment for IT infrastructure that you might not need on a day-to-day basis. Managed IT service providers are well equipped with the latest IT tools, and they are solely responsible for managing the cloud infrastructure for clients.
When you deal with ZenTek Data Systems, you only have to pay for the particular service you use and at the time when you use it. This way, you reduce your operational cost and curb down the IT cost too.
2. Robust Infrastructure
To keep your network infrastructure running, you require a lot of tools, and to keep those tools functioning, you need several processes in place, and you might also need to invest funds to keep up with the quality.
Getting your network managed by the service provider will lower your burden and expenses to maintain the network. These services will provide your business with more room to develop.
In search of IT support in Fort Lauderdale, ZenTek Data Systems provides 24/7 network monitoring services so that your business operation remains smooth and robust.
3. Data Backup and Recovery
A critical server failure can leave a business in a mess, adversely affecting their day-to-day operations if they have in-house IT infrastructure. This will bring business essential processes and functions into risk. If all the data are stored in the cloud, a potential devasting event will cause you minimal to zero downtime.
Even during a host failure or hardware failure, you can stand by cloud servers and because everything is there on a virtual platform. This is one of the biggest reasons why to use managed IT services.
4. Quick Response Time
When a new network issue pops up, or there's any new requirement, an urgent and quick response is essential to stop that minor abnormality from turning into a devasting experience. Why you deal with ZenTek Data Systems, your issues are dealt with on a priority basis and resolved quickly to help your business process run smoothly.
5. Automatic Upgrade
As technology keeps on evolving, new trends pop up every hour. More often, you need to either make minor tweaks here and there or go for significant upgrades to keep up with the changing requirements. A managed service provider lends you the scalability and flexibility to adapt and evolve by imparting customized solutions in the existing services.
Grow Your Business with ZenTek Data Systems
ZenTek Data Systems is a leading IT Services provider in Fort Lauderdale that aims at providing budget-friendly services and solutions. The experts at ZenTek offer continuous automation, real-time monitoring, quick on-boarding, incident support, backup monitoring, monthly security audits, database monitoring, automated ticketing, monthly reviews, and monthly cost audits. We take care of your IT infrastructure while you focus on your core business competencies.
Tags: Fort Lauderdale IT Services, Fort Lauderdale IT Support, Fort Lauderdale Managed IT Services, IT Services Fort Lauderdale, IT Support Fort Lauderdale, Managed IT Services Fort Lauderdale