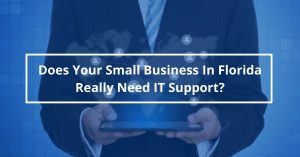 Florida is emerging as the upcoming global tech hub. Do you also want your startup to succeed in Florida? Then you definitely need reliable and highly efficient IT support services. All businesses need IT support services from Miami so that they can stay competitive and stand out. Businesses attain greater flexibility through IT support services. This allows businesses to generate higher profits. Let's see if your small business can benefit from IT support services.
The Types of Businesses That Need IT Support
You could have any small business type, and it will probably benefit from some form of IT support. The level of support your business requires may vary as each business uses a different technology and encounters distinct problems.
In this era, the chances of your online presence are high. Even a minor problem for an instant can prevent your customers from reaching out to you or buy something from you. With a quick IT support Miami service, you can easily resolve such issues.
5 valid reasons that make it imperative for your startup to use IT support services:
Effective data management
High-tech solutions to technical issues
Monitoring the business at all stages
Secure information
New technologies can advance your company goals
Effective Data Management:
Whether a business is a startup or a well-established firm, the significance for data management and storage is high in both. An expert IT department will ensure the data of your business is being managed seamlessly. IT support services in Fort Lauderdale prevent businesses from suffering through problems, like virus infection, lost data files, or accidental deletion.
High-Tech Solutions to Technical Issues:
Even the most high-quality software can undergo technical glitches. To resolve such issues, hire an efficient IT support service that offers high-tech solutions. That way, you can conduct your business operations more effectively. Besides, it also saves you valuable time.
Monitoring The Business At All Stages:
Any business must monitor the status and performance of their company at every stage. This is especially important for those businesses that serve online customers as they demand efficiency. If you have started a small business online and do not have an IT support service in Fort Lauderdale, your business can suffer huge losses.
If the business network goes down for some hours, your business will have fewer sales and a huge financial loss. A small business cannot afford such losses at the beginning. With an IT support service, you can easily recover your site in a few minutes.
Secure Information
All businesses keep crucial and valuable information. That includes financial details, HR details, and the salary of employees. Through the help of IT support, confidential information is protected from malicious attempts, such as hacking. The IT support department will be responsible for monitoring and policing such issues. Also, an IT department makes sure that employees do not disclose confidential information or leak data to any outsider.
New Technologies Can Advance Your Company Goals
Your company may be aware of modern technologies that suit your startup. However, to maximize your company's potential, IT support can introduce technologies that give your company an edge and make it stand out. You will not have to waste your time researching modern technologies when the tech-experts will be available to you.
You can take advantage of these technologies and advance your company goals. You will have more time to think about generating revenues. You can also think about expanding your company by relying heavily on technology, your small business will compete with successful companies.
Tags: IT Services Fort Lauderdale, IT Services Miami, IT Support Fort Lauderdale, IT Support Miami, Managed IT Services Fort Lauderdale, Managed IT Services Miami