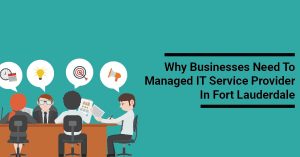 Technology and the way you operate businesses are changing rapidly, so most businesses adopt and outsource services that benefit them in the long run. Having a Managed IT Service Provider in Fort Lauderdale is essential for large and small businesses, making operating your business a smooth and efficient task.
Below are a few reasons why a business should opt for Managed IT Services in the Fort Lauderdale area:
Additional Security For Your Business
With everything being uploaded on the internet and all sorts of important transactions being carried out on the web, one major concern that all businesses have regarding their processes and their business is overall.
Data and important info are transmitted on technological devices, and this data falling into the wrong hands can be detrimental for a business and its reputation. IT Services in Fort Lauderdale based will ensure that extra security is provided to businesses to prevent any violations.
In case they ever do, action can be taken quickly to help with the damage. Since IT Service Providers are proficient and have more knowledge, they will apply extra security protocols and policies for a business' security purposes.
An Efficient Maintenance Process
IT Service Providers will help alleviate a business owner's burden by taking on the full responsibility for a business' IT infrastructure. Any minor problems such as stability of network connections, speed of the connections, and more will ultimately be handled by your managed IT service provider.
Security will also be kept in check, ensuring that the business and its information aren't vulnerable or liable to be exposed to any threats. Any viruses or issues that may arise will be solved instantly, with no need to halt any business processes to deal with the problem itself.
Fort Lauderdale Managed IT service providers are also continually providing businesses with multiple other features and services such as cloud computing, encrypted backups, a proper data management system, and more.
Lower Costs and Better Return on Investment
Managed IT Services in Fort Lauderdale can prove to be cost-effective for most companies. Not only does it cut down the annual costs of a business, but there is also better control and check on the current outflows and expenses of a business.
Keeping this in mind, a managed IT service provider can keep costs such as maintenance, hardware, and software costs in check. Making use of newer equipment and cutting down costs will ultimately result in a better return on investment. A managed IT service provider will also ensure that the business grows in a more scalable and flexible manner.
These are the core reasons why a business would outsource and opt for Managed IT Services in the Fort Lauderdale area. In this rapidly digitizing world, it is beneficial to have a skilled technician, and a managed IT service provider on hand to help you out with your daily business dealings.
Tags: IT Services Fort Lauderdale, IT Services Miami, IT Support Fort Lauderdale, IT Support Miami, Managed IT Services Fort Lauderdale, Managed IT Services Miami