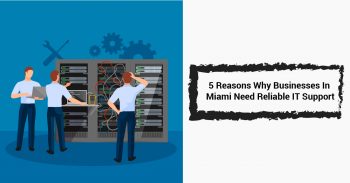 Today, everything has turned into digital. Every other business is operating online or using digital systems for some of its operations. With an increase in its use, businesses in Miami rely heavily on digital systems, computers, and software.
A minor breakdown or system failure interrupts the business significantly, which pushes the need for reliable IT support in Miami to a whole new level. With several businesses depending on IT support to keep their operations functioning properly, businesses in Miami must hire reliable IT services.
Here are 5 important reasons why businesses in Miami need reliable and professional IT support Miami.
1. System Maintenance
Just like your home or vehicle, your IT systems need maintenance as well. IT systems are designed to serve specific purposes at a specific scale. However, the system might experience more load than it was designed to experience. With more load and extreme use, the system begins to show its flaws that interrupt your business. This is one of the major reasons why businesses in Miami and across the states need reliable IT services.
Regular system maintenance fixes the flaws and improves the system to adapt to changing scenarios, which keep your IT systems running smoothly.
2. Protection From Malware, Spyware, And Viruses
Day by day, viruses and malware are becoming sophisticated than ever. Every day, a new virus, malware, or spyware is created by hackers and intruders that pose significant threats to your IT infrastructures.
If your business in Miami relies on IT or digital systems, then reliable IT support is unavoidable for your business located in Miami. Reliable IT support means a thorough and deep scanning of your IT infrastructure regularly and protection from online threats and viruses. A professional IT service renders a combination of antiviruses to effectively detect and block viruses.
3. Security Of Information
Does your business use digital systems for operating their businesses in Miami? If yes, then your systems contain sensitive and crucial personal information that shouldn't be accessed by hackers on intruders. Otherwise, it can result in a big loss.
With reliable IT Support for your business located in Miami your system is protected against hackers, and information security is deployed & monitored effectively.
4. Professional & Highly Effective Solutions To Technical Problems
Your software or system can encounter technical glitches, which requires you to hire managed IT Services for smooth business operations for your business in Miami.
Having a reliable, IT support for your business located in Miami; you can rest assured knowing that you'll get highly professional and effective solutions. Expert IT support providers have experienced and highly knowledgable professionals that can provide high-end solutions quickly.
5. Effective Data Management
For Miami businesses, data management & storage are highly crucial. Thriving businesses have to deal with rapidly growing data, so they need more storage options.
Professional Managed IT Services in Miami provide excellent solutions for data management and storage, ensuring that you don't experience the problem of scattered data, virus infection, and so on.
If you have a thriving business in Miami, then make sure that your IT infrastructure is highly secured, managed, and maintained at the hands of expert Miami IT Support .