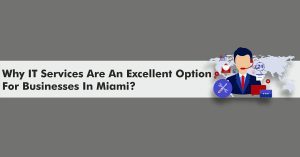 Are you a business based in Miami? Do you want to hire an IT support in Miami to troubleshoot everyday issues related to your network, servers, and database security? It is a fact that every business, whether small, medium-sized or larger, needs an efficient and dedicated IT team. Capable IT Services in Miami enables the companies and enterprises to stay competitive and curb the costs arising from database disaster and crashes. IT support provides businesses with maximum flexibility to boost sales and earn hefty profits. Here are some reasons that necessitate the vital Managed IT services in Miami. Different IT firms are offering their expertise, but ZenTek Data Systems may provide the best computing experience.
More efficient data management
If you are doing business in Miami, you may well understand the significance of data storage and management. For this purpose, you need to hire a well-performing and sound IT service to ensure your business data's smooth operations. A comprehensive IT Support in Miami may not let you face data loss and theft of essential customer files. In the case of virus infection ad accidental deletion, a skilled IT team may back up and recover your data.
Access to skilled professional
IT support services may provide you access to a skilled team of professional IT engineers, data management specialists, and expert cloud computing personnel. These professionals may impart necessary training to your in house IT team without any additional costs. In this way, you have access to a pool of talented and seasoned IT team.
High-end solutions
There may be glitches with even the most excellent software. A team of IT support in Miami may be vital for resolving niggling issues quickly and on the spot. Your business growth must avoid shut down due to an IT issue. You may save valuable working hours that are wasted in solving the computer network problems.
Data safety
In modern days there are different viruses and data theft issues. The team may fix these problems and provide a better antivirus management service to protect your computers and relevant data. You may save your precious resources in this way. If your IT system is down for more extended periods, it may lead to lower sales and, ultimately, financial losses. If you have a dedicated Managed IT Services team, you may avoid this loss considerably.
Security of your information
Every business has some sensitive data and customer information. It would be best if you kept it safe from hackers and other malicious attempts. A trusted IT support in Miami might ensure that there is no data leakage, and it is not passed to your competitors.
ZenTek Data Systems is a top-level IT service provider for all businesses in Fort Lauderdale and Miami. We have a skilled team that handles all kinds of IT issues related to cloud servers, data recovery and disaster management, safety, and managed IT support. You may hire us for strong IT support and resolve every day IT issues.